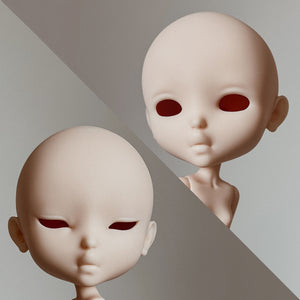 Vanilla Normal Layaway for Jose:
Deposit: $160 (+ $35 shipping)
Final payment: $200
--
Charon Dolls 2022 Original Body in Vanilla (both normal & sleepy eyes option)
This is not a pre-order, they are all in stock and ready to ship.
Please note that the full price is $360. All shipping is via Royal Mail (tracked and signed) and fully insured. For expedited shipping (3~5 days), please choose DHL Express at the cart. Please note that there won't be combined shipping for 2 dolls as the box won't fit the cardboard box limitation. Therefore each doll will be shipped separately. 
At the moment, I'm prioritizing full payment as I will be out of country the rest of 2022. For layaway, please contact me at hellocharon@gmail.com and I will see if there are some dolls in stock left. 
+ Vanilla skin tone (normal & sleepy eyes) +
Complete nude doll: head & strung body (with strengthened neck)

Silicone wig cap

Certificate & manual instructions 

High quality photos (chosen randomly)

Bespoke packaging covered with Italian Fedrigoni papers
Charon-stamped linen drawstring tote bag
Extra gifts
+ Measurement +
Wig size: 

 

8-9 wig or 1/3 size is suitable. Some 7-8 wig or 1/4 size may also works / if it's loose type or stretched. 

Heavy wig is not recommended as the neck & body won't be able to support the weight of the head.
Eyeball size: 16 ~ 18mm
Height head to toe: 25cm
Height neck to toe: 18cm
She can wear Pullip/ Blythe shoes and underwear. The top body is slightly smaller than Pullip & Blythe. They may look a bit baggy but 

she can wear most of their clothings. Feel free to use the measurement photo for a seamstresses to make custom fitted outfit for you.

For detailed measurements, please check the photo on the listing or 

 

go to FAQ, 

thank you!
+ Notes +
You don't have to register on this site, simply add to cart~
All blank dolls don't come with wig or outfits, for information on what to wear including poses, please go to FAQ page.
I have included a manual guide in the box f

or extra care & face up questions

Every single doll is crafted with love, however some small imperfections may appear due to handmade nature. Please do not expect a perfect/ factory doll

Pictures may vary slightly due to monitor settings

For security reason, I have the right to refuse selling to potential scammers. ^ ^

Please don't hesitate to contact me for any questions on hellocharon@gmail.com